They may not be the most flashy piece of equipment in the gym, but dumbbells have been a crucial part of strength training — in nearly every sporting arena you can think of — for almost as long as gyms have been around. They are the ultimate tool in versatility and allow you to train unilateral movements highly effectively. Barbells have many benefits with regard to training, but dumbbells allow you to iron out imbalances, target specific muscles and muscle groups, and keep the body working together as a unit.
It's hard to know where to begin when searching for a new pair or set of dumbbells because there are so many choices on the market. Some options have changed little in over a century, but there are also some innovative new products that have only just appeared, like adjustable dumbbells and insanely high-tech dumbbells. We've broken down the best dumbbells on the market for all different goals and budgets, so if you're on the hunt for a new set of dumbbells, this list is for you.
Best Dumbbells
Best Dumbbells Overall
If you've worked out for any length of time, you've probably used a pair of rubber hex dumbbells. Well-priced and very robust, they are the workhorses of countless gyms across the world. They may not be the prettiest piece of equipment you'll see, but when you factor in value, a pair of classic rubber hex dumbbells is hard to beat.
Living.Fit Hex Dumbbells
Living.Fit's hex dumbbells come in a weight range from five pounds all the way up to 100 pounds in five-pound increments, so they've definitely got the weight you're looking for to pack on some solid muscle mass or tone up. The hex shape of these bells is nice to keep them stable and help prevent rolling around on the floor. The solid rubber caps that encase the cast iron are there to help protect your floor and increase the lifespan of these dumbbells — with proper care, they'll last a long time. They may get beat up, but the design of this dumbbell can be structurally sound and usable for decades.
Living.Fit included a nicely textured handle with moderate knurling to help improve the confidence in your grip when you pick these bad boys up. The weight tolerance is a bit generous, coming in at +/- 3 percent of the stated weight. With dumbbells though, the accuracy isn't quite as important as perhaps a barbell with plates when you're dialing in openers for a powerlifting competition. The price point is competitive on these dumbbells, too, so you won't be overspending.
Who Should Buy the Living.Fit Hex Dumbbells
Athletes who need strong, durable dumbbells for their training. The rubber cap and steel handles mean these things are made to last.
Anyone who doesn't want their dumbbells to roll away during a workout. The hex shape helps to prevent rolling.
Consumers who want a dumbbell that is less likely to damage their floor. The rubber cap helps to protect your floor, and reduce noise if dropped too.
Who Shouldn't Buy the Living.Fit Hex Dumbbells
Buyers who don't have space for multiple sets of dumbbells may want to look at our pick for adjustable dumbbells.
Trainees looking for a flashy set of dumbbells that come in different colors or patterns — these are plain, but get the job done.
You see this type of dumbbell everywhere for a reason. Durable and affordable, they will survive a lot of punishment in training, and do so without breaking the bank. They may not be flashy or stand out, but they're thoughtfully designed and do their job consistently well. If you treat these right, they'll return the favor.
Read our full review of Living.Fit Hex Dumbbells.
Best Dumbbells for the Money
Everyone has a dream equipment list, but it likely remains a dream as price and space constraints can bring you back to reality. If you want to workout, but know you can't afford to mortgage your house to do so, Living.Fit Hex dumbbells are the best option for the money.
Living.Fit Hex Dumbbells
These dumbbells come with a knurled and etched steel handle, and a rubber cap on the heads, ensuring a good grip and even better durability. They're available in weights ranging from 5lbs all the way up to 100lbs (in five-pound increments) for you really strong people out there. The range of sizes and affordable price will allow you to get a great workout in at home, and maybe even pick up a few different sizes for the price of one pair of comparable bells.
While these dumbbells from Living.Fit are priced reasonably, they're also very reliable and made from solid cast iron. If you're on a budget and want a pair of basic hex dumbbells to help you get the job done, you've found them. If you're looking for something fancier or even adjustable, you may have to look in a higher budget category though.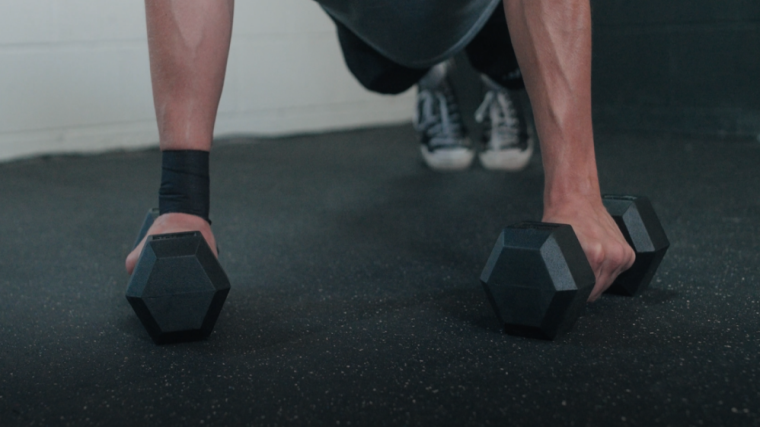 Who Should Buy Living.Fit Hex Dumbbells
Athletes who want great value for the money when it comes to dumbbells. These are high quality without breaking the bank.
Lifters who are looking for easy-to-clean and maintain equipment. These just require a wipe-down after use with some antibacterial spray, and you're good.
Trainees who want durable, no-frills dumbbells. These aren't winning any beauty pageants, but they get the job done at an affordable price.
Who Shouldn't Buy Living.Fit Hex Dumbbells
Trainees who don't have enough space for multiple sets of dumbbells may want to spend a little extra on adjustable dumbbells.
Buyers looking for more aesthetically designed dumbbells may want to look at another pick on the list for some colorful options.
About as affordable as you can get, these rubber-coated hex dumbbells are a great option for anyone whose budget is limited. If you're looking for dumbbells that'll tear up your workouts without tearing up your wallet or floors, these are the way to go.
Best Adjustable Dumbbells
Adjustable dumbbells are a trade-off in many ways — greater upfront expense and less durability, but far lower space requirements. Though long term, you will save money because you won't need to buy a heavier set of dumbbells each time you progress.
SMRTFT NÜOBELL Adjustable Dumbbells
While many other brands of adjustable dumbbells use slide or quick-lock systems to switch between weights, the NÜOBELL uses a twisting handle system. With this system, you can simply twist the handle to the number you want, pick up the weight, and get to lifting.
The weight range here is wider than many other sets of adjustable dumbbells as well, going all the way from five pounds up to 80 pounds. Aside from functionality, this piece of equipment looks both simple and sleek, making it a great addition to any home gym space.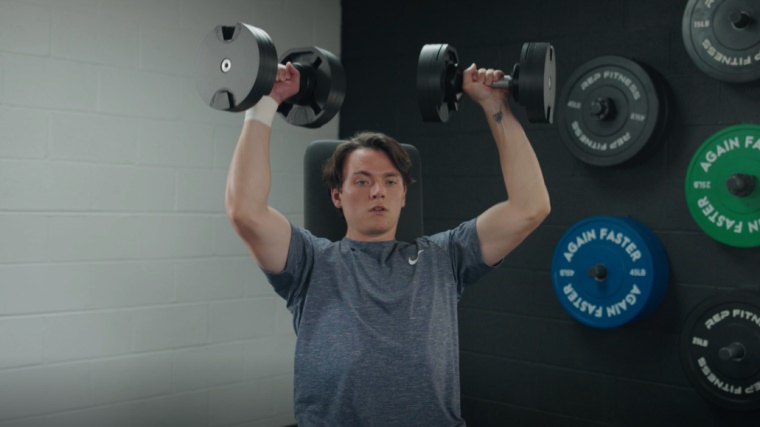 Who Should Buy The SMRTFT NÜOBELL Adjustable Dumbbells
Anyone who wants to switch quickly and seamlessly between different weights.
Home gym owners who want to consolidate their set-up and not own multiple pairs of dumbbells.
Lifters who want a wide range of weight options.
Who Shouldn't Buy The SMRTFT NÜOBELL Adjustable Dumbbells
Customers looking for a cost-effective pair of adjustable dumbbells — this pair has a hefty price tag.
Folks who only use a couple pairs of light dumbbells and don't need a wide weight range
For a modern, "smart" adjustable dumbbell with a wide weight range and twisting handle for fast adjustments, the NÜOBELL is one of the best options on the market.
Read our full review of SMRTFT NÜOBELL Adjustable Dumbbells.
Best Dumbbell Set
Having a full set of dumbbells for your workouts can open up a range of new opportunities for improvement. You can progress the weight you lift over time and easily jump from one exercise to another. Not all dumbbell sets are the same though, and the Living.Fit Hex Dumbbells stand out in today's market — especially for home gym owners.
Living.Fit Hex Dumbbells
Anyone who is a fan of the classics will find these dumbbells appealing thanks to their rubber-coated hex design with ergonomic, knurled handles. The hexagonal shape of the bells helps to prevent unwanted rolling and can even make certain exercises — like chest press — easier. Living.Fit produces these dumbbells in five-pound increments from five pounds to 60 pounds, then 10-pound increments from 60 pounds to 100 pounds. The weight tolerance is within three percent, so they're right in line with most other dumbbells with accuracy but cheaper than many other similar products (with better variety).
There are five different set options for these dumbbells. The introductory set ranges from five pounds to 50 pounds and will run you about $1,099 before taxes and shipping. If you want a set with a wider range, you can opt for the five-to-75-pound set or even the five-to-100-pound set for around $2,279 or $3,599, respectively. For those who already have a decent set and want to expand on it, Living.Fit offers top weight sets of 55-to-75 pounds and 80-to-100 pounds, which cost about $1,299 or $1,549, respectively.
Who Should Buy Living.Fit Hex Dumbbells
Athletes who want a wide range of weights to choose from. You can have weights from as little as five pounds all the way up to 100 pounds.
Those who are looking for a dumbbell set that they can expand on over time. The different sets are meant to allow you to grow your dumbbell collection as you can.
People who want a dumbbell with a good grip. The ergonomic and knurled handles help to make these bells easier to hold.
Who Shouldn't Buy Living.Fit Hex Dumbbells
Consumers on a tight budget may want to opt for a more cost-effective option, like an adjustable or loadable dumbbell.
Lifters who dislike ergonomic fit handles may find these less comfortable and harder to grip than other, straight-handled dumbbells.
Those who are limited on space may not have room for a full dumbbell set such as this.
If you're in the market for a dumbbell set, this collection from Living.Fit is a solid option. Not only are they durable thanks to the rubber coating and solid iron, but they're also functional because of the knurling and wide grip area.
Best Loadable Dumbbells
If you love barbells, then odds are you may love these loadable dumbbells. They feature the same knurling, bar diameter, and rotational capacity that you'll find in a Rogue bar, but in dumbbell form. Rogue Fitness manufactures these dumbbells to the same specifications as the Ohio bars, so we think it's safe to say that durability isn't going to be an issue.
Rogue Loadable Dumbbells
Compatible with the standard plates you'll encounter in any gym, you have the option of getting a smaller 10lb dumbbell or a 15lb dumbbell with a longer 6.75-inch loadable sleeve. These feature a 28.5mm diameter knurled handle with the same high quality craftsmanship we've come to expect from Rogue products — making them essentially a mini barbell. The collars even have bronze bushings for smooth rotation and improved stability.
Rogue has really pulled out all the stops on these. The only issue we can find is that they aren't cheap. If you have the cash on hand though, these are some beautiful dumbbell handles. One of the best parts is that you don't have to purchase any fancy plates unless you want to as these will work with any normal-sized Olympic two-inch plates.
Who Should Buy the Rogue Loadable Dumbbells
Athletes who want a really durable, yet adjustable dumbbell system.
Lifters who want a dumbbell that can rotate as movements are performed.
Trainees searching for a great-looking set of dumbbells.
Who Shouldn't Buy the Rogue Loadable Dumbbells
Buyers with a tight budget should look for a more affordable option.
Customers who don't want to have to adjust their dumbbells.
Trainees who don't need such a large range of weights.
The ultimate in adjustable dumbbells, these loadable bells are not cheap — but they look awesome and perform great. If you have deep pockets and are training often, we highly recommend these loadable dumbbells from Rogue.
Best Premium Dumbbells
Dumbbells with urethane coatings have many advantages over rubber or non-coated dumbbells. They're more durable with resistance to abrasion, impact, and even sunlight if you like lifting outdoors. Generally, urethane coatings are more expensive than rubber coatings or uncoated bells though. If price isn't as much of a concern as durability, then the REP Fitness Urethane Dumbbells are a great choice.
REP Fitness Urethane Dumbbells
REP designed these dumbbells to endure high-intensity and high-volume training — they're here for the long haul. Constructed from solid steel with a CPU urethane coating and fully knurled handles, these are meant to feel like a premium piece of equipment and perform like one too. The ends are rounded with a bright white REP logo and weight markings, so they're easy to see, lending a top-end feeling to their look. To round out their high quality, REP keeps the weight tolerance tight at one percent.
You can pick up these top-tier dumbbells in a variety of full or partial sets starting with a basic five-to-50-pound set, as well as five to 75 pounds, five to 100 pounds, 55 to 75 pounds, or 80 to 100 pounds. For the strongest among us, REP has sets from 105 to 125 pounds and 130 to 150 pounds — though that last set may just be for Rob Kearney. These dumbbells come with a lifetime warranty for home use and a one-year commercial warranty.
Who Should Buy REP Fitness Urethane Dumbbells
Anyone who wants to only buy one set of dumbbells and be done with it instead of replacing them every few years.
Consumers looking for dumbbells that are low on maintenance and high on premium qualities will appreciate the care REP took in designing and manufacturing these. Urethane requires little care overall and the crisp, bright white labeling gives a premium look.
Athletes who want to purchase just a couple pairs of dumbbells to start, but then want to add heavier sets over time. REP sells a bunch of different sets with different weight ranges for all strength levels.
Who Shouldn't Buy REP Fitness Urethane Dumbbells
Consumers with a limited budget will want to look elsewhere as these are not cheap.
Athletes who want dumbbells that aren't rounded. Round dumbbells like these can roll away if dropped.
Those who are limited on space may want to opt for adjustable or loadable dumbbells.
The classic but elevated-looking design of the crisp white lettering will make these stand out in your gym. Solid steel coated with urethane and a knurled handle for extra grip mean these can stand up to even your toughest workouts. They may be pricey, but they're likely the only dumbbells you'll need to buy and should last a lifetime with proper care.
Best Block Dumbbells
Powerblock pioneered the adjustable dumbbell in the early 90s, and though there are many more challengers in the market now than before, their block dumbbells still sell well for good reason. These dumbbells have the option of going from five to 100 pounds and are very well built.
PowerBlock Series EXP
Other small details like the fact that the dumbbell weights are marked in both pounds and kilograms show these are truly designed for lifters by lifters. They are relatively expensive, but work out cheap in the long run — especially if you get a heavier set. The main issue we find is that they are pretty large and can occasionally get caught on clothing or interfere with certain movements.
Though these lack some of the elegance of other, more expensive options these are a great purchase for someone who simply wants to put the work in and doesn't have a ton of cash to drop on a full dumbbell set or the room to house it.
Who Should Buy the PowerBlock Series EXP
Lifters who don't want multiple sets of dumbbells.
Trainees who want a durable adjustable dumbbell at a solid price.
Anyone who wants a set of adjustable dumbbells that get very heavy.
Who Shouldn't Buy the PowerBlock Series EXP
Trainees who want a smaller set of adjustable dumbbells that won't get caught as easily on clothing while lifting.
Lifters who want a more aesthetically designed set of dumbbells.
Buyers with a tighter budget.
PowerBlocks' marketplace longevity is well warranted. These are solid adjustable dumbbells that can help expand your training repertoire.
Best Rubber Dumbbells
As a material, rubber comes with a host of benefits. It's cheap, pretty durable, and good at absorbing shock, which means it's a great choice for those who are going to be a bit more aggressive in their training. If you want to minimize damage to your floors and to the dumbbells themselves, rubber-coated dumbbells are a solid option.
Living.Fit Hex Dumbbells
Ranging in weight from 5lbs all the way up to 100lbs (in 5lb increments), Living.Fit has a wide range when it comes to their dumbbell selection. The durable rubber caps means that unless you're mistreating them pretty badly, they'll bounce back from each workout. Just like you lay down rubber mats to protect your gym floors, Living.Fit wrapped each head of the cast iron dumbbell in rubber to absorb some impact when dropped and help prevent damage to your floor. Not only does this protect your floor, but it may also improve the longevity of the dumbbells too by helping to prevent the cast iron from being exposed to rust.
The knurling on the ergonomically designed handle allows for an easy and secure grip each time you pick these dumbbells up. The reliability of the Living.Fit hex dumbbells is top-tier, as well, as this design is found in gyms all over the world. Cleaning them is easy, and requires just a simple wipe-down — no moving parts to worry about here. If you're looking for something colorful, or don't have room to build out your home gym with multiple pairs of dumbbells though, you may be better off with a different pick on this list.
Who Should Buy Living.Fit Hex Dumbbells
Athletes who need hard-wearing dumbbells — these will stand the test of time thanks to the solid cast iron and rubber coating.
Lifters who are looking for equipment that's easy to maintain, and won't damage your floors. Thanks again, rubber coating.
Shoppers on the hunt for the best price point. These dumbbells are priced competitively without sacrificing quality.
Who Shouldn't Buy Living.Fit Hex Dumbbells
Trainees who don't have enough space for multiple sets of dumbbells. Opt for adjustable or loadable dumbbells, which you can find elsewhere on this list.
Anyone looking specifically for adjustable dumbbells will not want to buy a bunch of fixed dumbbells like these.
Buyers looking for a higher-end product with top-end materials, and a more custom or colorful design.
Easy to store and a great value, the rubber hex dumbbells from Living.Fit are an ideal option if you're looking to do more dynamic moves that may involve dropping the weights. If you're on the hunt for rubber dumbbells, these are an easy choice to protect your floor — and your wallet.
Best Hex Dumbbells
Hexagonal-shaped dumbbell heads have gained popularity compared to round dumbbells as they are easier to store and generally more affordable. They may also be safer since they're less likely to roll away or over your toes if you drop them. These hex dumbbells from REP Fitness are an excellent choice if you're in the market for a set.
REP Fitness Hex Dumbbells
One of the first things you'll notice about these dumbbells compared to other rubber-coated bells is that they're virtually free of the nasty rubber smell that you may find in more budget or low-quality dumbbells. These feature a straight, chrome handle that's fully knurled to help maximize your grip during difficult sweaty sessions.
REP offers their hex dumbbells in three different starter weight sets from five to 50 pounds, five to 75 pounds, and five to 100 pounds. To expand those sets, REP also has two heavier sets from 55 to 75 pounds and 80 to 100 pounds for freaky strong people out there. If you want additional individual pairs, you can order them in two-and-a-half-pound jumps below 30 pounds, and five-pound jumps from 35 to 125 pounds. These dumbbells have a three percent weight tolerance and a lifetime home use warranty to boot.
Who Should Buy REP Fitness Hex Dumbbells
Lifters who want a straightforward dumbbell set that's solid and won't break the bank will appreciate these reliable hex dumbbells.
Those who like a straight, knurled grip for their dumbbells.
Lifters who want dumbbells that are less likely to roll away due to the hex shape.
Who Shouldn't Buy REP Fitness Hex Dumbbells
Those who want a more premium coating like urethane will want to check out other options on this list.
Consumers who prefer a more ergonomic grip with moderate knurling.
Athletes who are limited on space and don't have room for a dumbbell rack may want to look elsewhere.
If you've got the space and the budget, there are few options that will deliver a better product for the money than these hex dumbbells. REP sells these sets, so you can add on over time as you get stronger and need heavier bells. There's a reason that hex dumbbells are used in gyms all over the world — they offer great value and durability.
Best Dumbbell Rack
Storing any form of strength equipment can be tough due to the enormous strain it can put on shelving. However, if you're going to purchase a set of dumbbells, you'll want to store them properly. It's going to increase the longevity of your weights, make them easier to keep clean, and allow you to stay organized rather than searching around to find the right weight.
Rogue Universal Storage System
Built with 11-gauge laser-cut steel, you need not worry about this shelf crumbling under pressure. The heavy-duty wheels make it easy to move about, and it's got enough surface area to store sixteen 70lb kettlebells stacked two deep on each shelf.
Rogue has options that allow you to customize each shelf for storing dumbbells, kettlebells, or medicine balls. Finally, Rogue's universal rack system is made from 3×3-inch and 2×3-inch steel, which means you can bolt on other accessories, like a barbell holder, if you want.
Who Should Buy the Rogue Universal Storage System
Lifters who want to clean up their training area.
Consumers who need a durable storage system for their weights.
Buyers who want to purchase multiple training implements for their home gym.
Who Shouldn't Buy the Rogue Universal Storage System
People with adjustable dumbbells that don't need a rack.
Trainees who aren't so concerned about organizing equipment.
Buyers who would rather spend the money on more workout rather than storage equipment.
When standard shelving just won't do, get yourself a heavy-duty storage solution like this one from Rogue that can deal with really heavy weights.
Best Dumbbells on Amazon
When you're shopping for gym equipment, especially heavy pieces like dumbbells, the weights and shipping costs can get pretty high. Amazon is a great option that allows you to take advantage of their shipping network to help reduce the cost of shipping in many cases. Sifting through reviews and pages of equipment can be tedious though, and you never know what to believe. We've done the hard work there for you — let us present our top pick for best dumbbells on Amazon.
Living.Fit Hex Dumbbells
If you like to buy everything from one place and shop on Amazon often, then these are the dumbbells for you. You may even save some extra money on shipping with Prime, allowing you to spend some more elsewhere — new squat shoes anyone? With weights ranging from 5lbs all the way to 100lbs, you won't be short on weights to choose from — especially since the increments are in five pounds, instead of 10.
The Living.Fit hex dumbbells are made from solid cast iron with steel knurled handles to give an ergonomic and confident feel in the hands. Their rubber caps help to protect both the dumbbell and your floor from damage, and work as a shock absorber. The weight tolerance is a bit large at three percent of the stated weight, but for the price, that's not a dealbreaker for us. We love the hexagon shape that helps prevent rolling — your toes will thank you. One thing to note is that the weight list is out of order, so be sure you're choosing the right weight you want when adding to your cart.
Who Should Buy Living.Fit Hex Dumbbells
Athletes who need a pair of dumbbells that can stand the test of hard workouts repeatedly will appreciate the durability here.
Lifters who want their equipment quickly. Amazon usually ships the same day and gets you things faster than most other places.
Customers looking for a good value. These dumbbells are competitively priced and shipping from Amazon is generally cheaper than elsewhere, if not free with Prime.
Who Shouldn't Buy Living.Fit Hex Dumbbells
Anyone without Prime shipping might end up paying the same or more for shipping than they would ordering elsewhere.
Someone who is looking for single dumbbells. These are sold in pairs.
Lifters who want a more customizable or aesthetic set of dumbbells may want to opt for another option.
Living.Fit made getting their hex dumbbells quick and easy with shipping from Amazon. These dumbbells are durable and made to last with rubber caps to protect them and your floor. The knurled, steel grips are a nice addition to put the value over the top.
Benefits of Dumbbells
There are good reasons that you will find dumbbells in nearly every commercial and home gym. They're versatile, can work muscles unilaterally, may offer better safety and range of motion than barbells, and they're generally quick and easy to use. Read along as we expand on these benefits.
Versatility
Dumbbells can be used to perform just about any exercise you can do with a barbell and sometimes the dumbbell variation is easier to grasp — like a goblet squat compared to a traditional front squat. You can also perform many exercises that you simply can't (safely) with a barbell, like flyes, lateral raises, Kroc rows, and more. Dumbbells may arguably be the most versatile piece of equipment you can own.
Unilateral Exercises
Unilateral exercises refer to movements performed using only one leg or arm. These can be done to bring up a lagging body part; for example, if one biceps is larger than the other, a bodybuilder may perform curls with the smaller one to help it catch up to the other one. Unilateral exercises are also commonly used in rehabilitation from injury to target a specific limb. Dumbbells are excellent for this purpose since they can be used easily to place the load on only one limb.
Safety and Range of Motion
Dumbbells may be safer to use (especially when you're by yourself) than a barbell. If you are unable to lift a bar off of your chest in a bench press you may have to perform some uncomfortable shimmying or dump the weights to one side. Performing a dumbbell bench press and failing is still not ideal, but it may carry less risk since you can simply drop the weights to the side and nothing is pinning your chest down.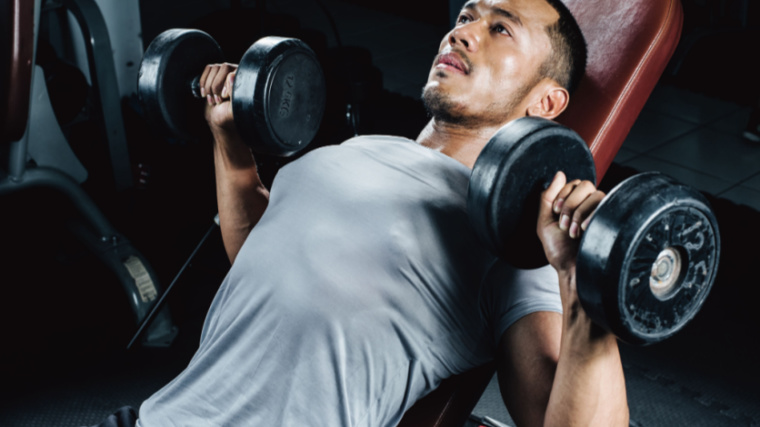 Dumbbells also have the capacity to allow for a greater range of motion for the same reason. The weight is not connected over a long barbell, which can restrict movement. Using a bench press again, dumbbells can be lowered as low as your shoulder mobility will allow for while a barbell stops at your chest. This is especially important for those with larger chest and torso areas. To sufficiently work through a full range of motion unrestricted, dumbbells can be a useful tool.
Ease of Use
This really only applies to adjustable dumbbells, as fixed dumbbells are (we hope) foolproof. Changing the weights on adjustable dumbbells hasn't historically been the easiest, quickest, or most reliable process. Thankfully, with the recent surge of interest in gyms and gym equipment — generally — a lot more thought has gone into these mechanisms. It's true that you can still find wacky, difficult-to-use models out there, but you should be able to spot them from reviews and by asking around.
How We Chose the Best Dumbbells
Dumbbells may seem remarkably similar, but they can be as different as any other piece of gym equipment. They vary greatly in design, which impacts our most important factors of durability and pricing. They also have a wide range of weights they come in, which will influence how they rank on our picks.
Durability
Some types of dumbbells are known for their durability (such as urethane-coated and solid steel dumbbells). Others are not quite as durable, but make up for it with other features — like the space-saving adjustable dumbbells on this list. Still, no matter the design they have to stand up to repeated use for years since that is what's expected of a high-quality set of dumbbells. If they start to wear and break after only a year or two, then those bells may not rank as well on our list.
Pricing
Dumbbells have just about as wide of a price range as squat racks, ranging from a couple of hundred dollars for a cost-effective adjustable pair to upwards of five or even ten thousand dollars for a custom high-end set. The absolute price isn't what we consider, it's the value you get for the price paid.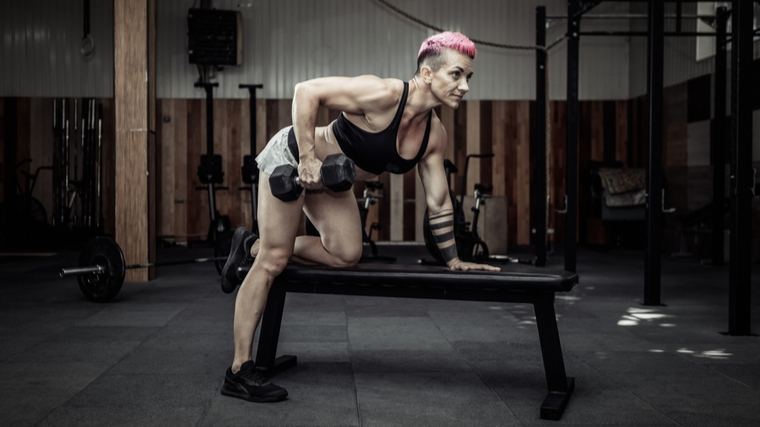 If a company is charging top-tier pricing but cutting corners in quality, then they won't make it to our list. Conversely, other companies that make high-quality products for reasonable prices will rank highly.
Weight Range
The weight range of dumbbells is something that has to be taken into consideration too. Sure, anyone can make use of a regular set of five to 50-pound dumbbells, but that is likely not enough for an experienced lifter. If a dumbbell set tops out at a lightweight without the ability to purchase expansion sets, then they likely won't rank as well as the ones that offer multiple sets with a wide range of weights. Some companies offer up to 130-pound sets (and even heavier with custom orders).
How Much Space Do You Have?
This is either a major pain point for, or a passing thought unless you accumulate an unusually large collection of weights. If you don't have much space, then adjustable dumbbells are the obvious move. They save so much space when you consider the wide range of weight they can cover. On the other hand, they can be expensive if you opt for a high-quality pair.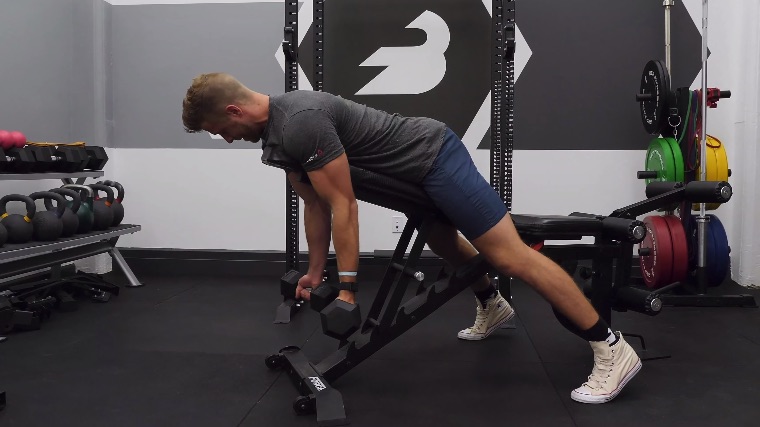 You will save money by purchasing pairs of dumbbells for weights that you use regularly, but fixed-weight dumbbells will inevitably take up much more room if you end up buying a whole set. Those with a dedicated garage gym should have space to store them, but if you're looking to discreetly plant some dumbbells in your bonus room behind the treadmill, be sure to consider what you need and how much space you have.
How Much Do Dumbbells Cost?
Dumbbells may seem somewhat inexpensive at first glance with pairs starting around $30 or $40, but they can quickly move into the realm of several hundred dollars per pair for heavier dumbbells. Thankfully, most people won't need ultra-heavy pairs, and you can save some money if you purchase a few select weights. Opting for a pair that works for a wide majority of exercises as well as warming up can be a good idea. If you're especially strapped for room or cash, loadable or adjustable dumbbells might cost more upfront, but will usually save space and money in the long run.
| | | |
| --- | --- | --- |
| Best Dumbbells Overall | Living.Fit Hex Dumbbells | Starting at $34.99 per pair |
| Best Dumbbells for the Money | Living.Fit Hex Dumbbells | Starting at $34.99 per pair |
| Best Adjustable Dumbbells | SMRTFT NÜOBELL Adjustable Dumbbells | Starting at $595 per pair |
| Best Dumbbell Set | Living.Fit Hex Dumbbells | Starting at $34.99 per pair |
| Best Loadable Dumbbells | Rogue Loadable Dumbbells | Starting at $135 per handle |
| Best Premium Dumbbells | REP Fitness Urethane Dumbbells | Sets starting at $1,599.99 |
| Best Block Dumbbells | PowerBlock Series EXP | Starting at $359 per pair |
| Best Rubber Dumbbells | Living.Fit Hex Dumbbells | Starting at $34.99 per pair |
| Best Hex Dumbbells | REP Hex Dumbbells | Sets starting at $1,099.99 |
| Best Dumbbell Rack | Rogue Universal Storage System | Starting at $365 |
| Best Dumbbells on Amazon | Living.Fit Hex Dumbbells | Starting at $34.99 per pair |
As with any other piece of equipment, the price here can vary quite widely. The dumbbells on this list generally start around $40 per pair for a five-pound pair and work their way up incrementally to highs of over $400 per pair for 100-pound and heavier bells. The exceptions are loadable dumbbells which cost around $135 per handle and adjustable dumbbells, which start anywhere from about $360 to $595.
What to Consider Before Buying Dumbbells
Dumbbells are pieces you'll absolutely want to have in your training toolkit at some point. Here are the major factors you'll want to think about before you buy a pair or a set of dumbbells.
Adjustable or Fixed
The first major decision to make when buying dumbbells is whether to get adjustable or fixed-weight dumbbells. If you plan on dropping your dumbbells regularly during training, go for fixed dumbbells for their durability. Adjustable dumbbells will have a higher price tag for a pair, but you'll end up paying the same or more for an equivalent set of fixed dumbbells that can cover the same weight range. Does the versatility of the adjustable dumbbells make up for the fact they'll need more care? Or would you prefer the simplicity of fixed sets?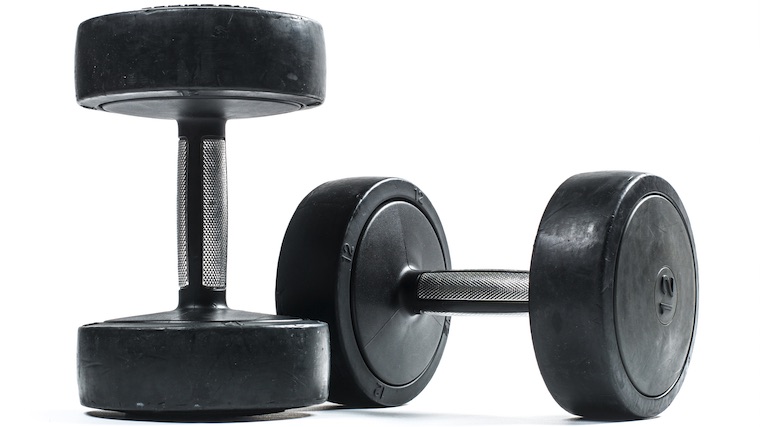 Consider space as well. If you're looking to build strength and progress in your training, then you'll need to continue upping the weight. With fixed dumbbells, this can start to take up a lot of space — fast. But one pair of adjustable dumbbells can help you progress without taking up a lot of space. Our advice: Assess your training goals and strength trajectory to make an informed decision.
Durability
As we just noted, adjustable dumbbells won't be as durable as fixed weights. Fixed weights have zero moving parts and are usually cast as one single, solid block. This doesn't make them indestructible, but they can endure some serious punishment. You only need to watch CrossFit or strongman athletes dropping dumbbells at the end of the workout to see this in action.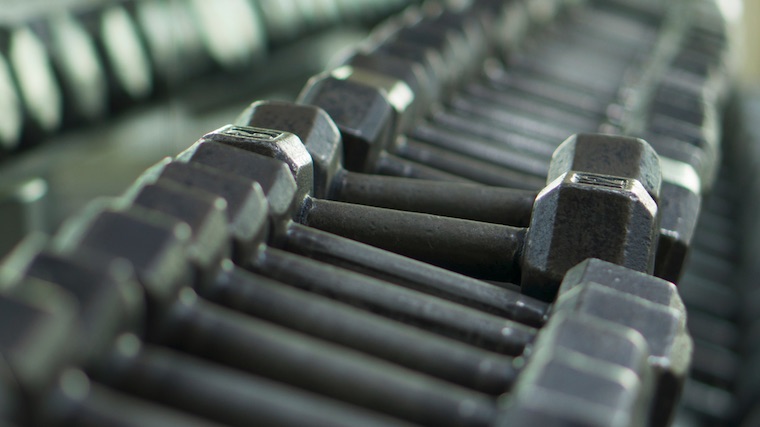 If you plan on doing any kind of intense training, fixed dumbbells may be your only choice due to their durability. On the other hand, if you plan on doing mostly bodybuilding, powerlifting, or recreational lifting, your dumbbells are rarely going to be used in situations where you're pushing to failure and dropping them immediately. They're usually for accessory movements where you'll be less likely to drop the dumbbells.
Common Dumbbell Materials
There are a variety of materials you're going to see used to construct dumbbells, so we've highlighted the most common ones, and their pros and cons below.
Rubber
This is generally the most common covering for dumbbells. Virgin rubber is cheap. Recycled rubber is even cheaper, but can smell odd. It is a decently durable material and will survive an average trainee's workouts so long as they don't chuck the dumbbells on the floor every time they finish a set (and even then they might still be fine). Relatively soft, rubber will help cushion a dumbbell's fall and can prevent some of the excess damage to your floor if you drop them regularly.
Urethane
This is the premium option for covering dumbbells. Hard-wearing and great for customization, it is very resistant to damage. The obvious downside is the price. Urethane dumbbells are going to be significantly more expensive than their rubber counterparts, but if you're on the hunt for a good-looking premium dumbbell, then urethane is probably what you're looking for.
Steel
Alongside iron, steel is a very common base material. It is more expensive than iron, but will not oxidize quite so easily, or almost at all depending on the type of steel used. It can, however, be more brittle due to the added carbon.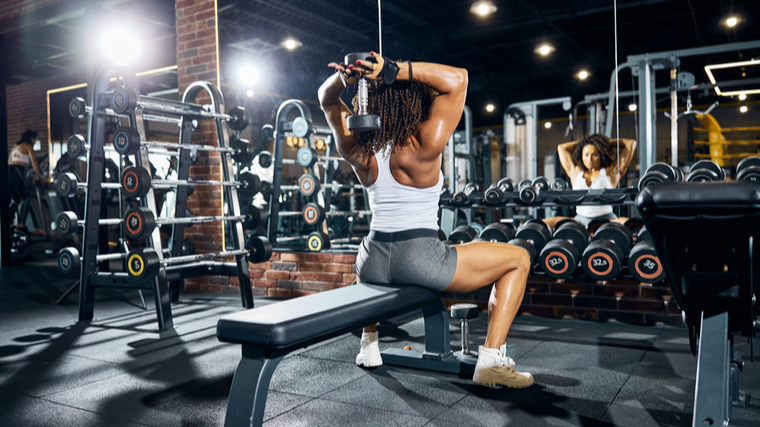 This means that if you weaken the dumbbell over time, it may snap. We make this sound like a simple task, but trust us, you'll have to put in quite a bit of time and effort to have this happen.
Cast Iron
Cheaper than steel, this will commonly be used in lower-cost dumbbells, with a lot of the hex models being prime examples. It's great so long as it remains covered by rubber, urethane, or chrome plating. Once exposed it is easily oxidized and will rust, which isn't the end of the world in the short run, but long term can result in structural weakness.
Plastic
Plastic is rarely used with fixed dumbbells, it is almost always used to manufacture the adjustment mechanisms for adjustable dumbbells. It is almost impossible to create a lightweight mechanism out of anything else, but the trade-off is the fragility of the plastic. This is why you have to be careful not to drop or smash a pair of adjustable dumbbells. The weights themselves will survive, but the mechanisms can be easily damaged.
Premium Dumbbell Features
There are some high-end features that may be of interest if your budget isn't a factor, and you're looking for the best of the best. Beware, these features can add up and get expensive fast.
Knurling
Several brands offer custom knurling on dumbbells. Knurling won't be a big deal for most people as the weights they use aren't heavy enough to be seriously impacted by this. If however, you're going super heavyweight on dumbbell rows and need some aggressive knurling for a solid grip, know that there are options available.
Rotating Handles
If you look back at the Rogue Loadable Dumbbells, you'll see an example of this feature. The theory is that, like a barbell, having bearings or bushings that allow rotation leads to better movement of the dumbbell, which can lead to more weight lifted.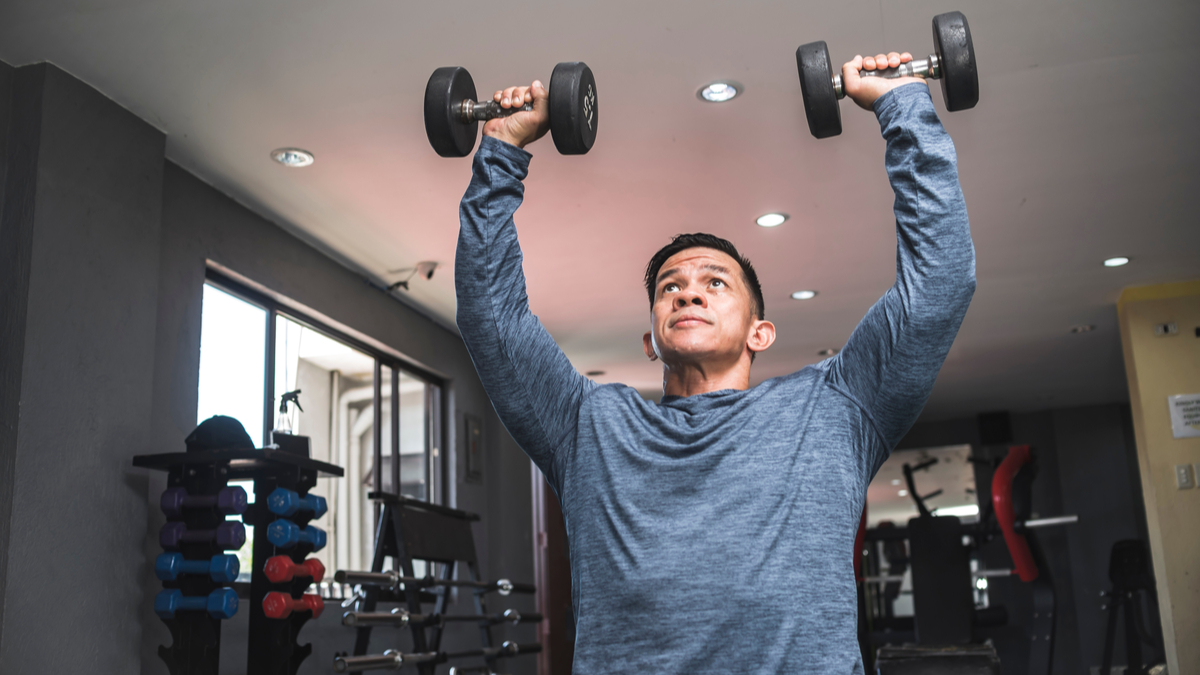 This is a really cool option, but it is probably the most expensive of all of these premium features and the benefits may only help a few in the top tier of strength sports.
Handle Diameter
Another option that has recently garnered discussion is handle diameter. Theories abound that thicker grips lead to greater irradiation and thus muscle activation overall. If you find this to be true for you, larger-diameter handles are more and more available to consumers.
Other Customizations
The sky really is the limit here, especially with urethane dumbbells. You can have a custom logo or name added to your dumbbells. You can change colors or have different finishes. Companies have realized that there isn't much of a downside to offering these options, so if you want it, they'll almost certainly do it and charge you extra for the privilege.
Kettlebells vs. Dumbbells
So onto the first of a few face-offs. Kettlebells are a great conditioning tool and have their own hardcore following. They are a fantastic tool for people who like HIIT training and a wide variety of workouts to perform. If you're a huge fan of kettlebells, there are ways to perform almost everything you can do with a dumbbell, but movements tend to be geared more towards using multiple muscle groups or the entire body, whereas dumbbells can more easily target individual muscles. Let's just say it's a lot easier (and more comfortable) to do a bicep curl with a dumbbell than a kettlebell.
Barbells vs. Dumbbells
Both barbells and dumbbells can fulfill similar roles in training, but they both have strengths when compared to each other. Generally, barbells are better for super-heavyweight training and 1 rep max days as it is difficult to hold or even afford dumbbells that heavy. On the other hand, dumbbells allow for more movement variations, better unilateral training, and higher rep sets with less weight. What you get is really going to depend on what you want to prioritize in your training.
Fatbells vs. Dumbbells
Fatbells are a new entrant into the equipment market and should technically be classified as "center mass bells", but the inventor's name has stuck. The way these dumbbells work is by placing the bar within a centered, round weight. The weight is generally closer to your hands and evenly distributed, as opposed to flaring out far beyond your wrists as traditional dumbbells do.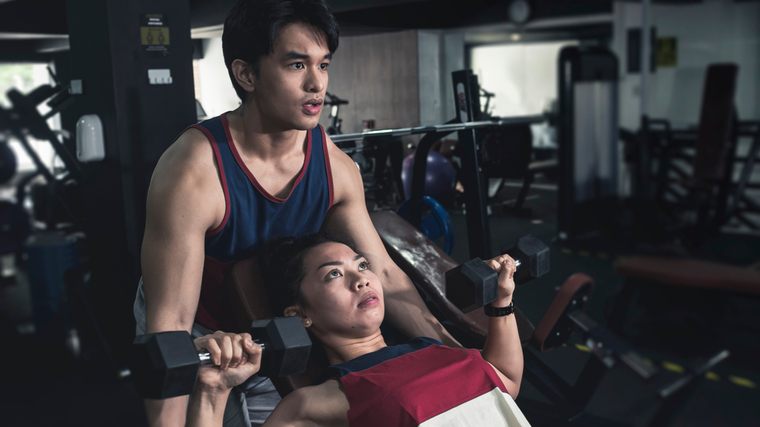 Center mass bells are as good as dumbbells in basically every respect other than price. They're generally pretty expensive and that's probably the biggest deal breaker for most consumers.
Final Word
We can't recommend dumbbells highly enough. The versatility available from a single pair of dumbbells is unequaled by virtually any other piece of equipment (don't worry, we love the barbell immensely as well). Ask yourself how wide a weight range you need and how robust the dumbbells need to be. Adjustable dumbbells will bring that range, but can come at a cost. You may be paying for more weight than you need. In terms of durability, they can't match fixed dumbbells.
Fixed dumbbells are great if you want to do movements like the dumbbell snatch, as they are much more durable, but you lose some versatility if you don't buy a whole set. Have a think about your training and choose accordingly. You won't regret adding a high quality pair (or set) of dumbbells to your training arsenal.
FAQs