Cable machines can transform your home gym into a state of the art facility. A cable machine is a piece of equipment that features a set of adjustable pulleys — this adjustability allows you to perform multiple exercises at various angles, proving to be one of the most useful pieces of equipment you can own. There are a lot of cable machines on the market for athletes to choose from — some are built for small spaces, while others are quite large and designed for heavy lifters. A cable machine offers a high degree of versatility as it can isolate your muscles while you perform upper and lower body movements. These machines also allow you to keep your muscles under constant tension from the cables.
We've tried a variety of cable machines, including those that mount to your wall, ones that attach to your current home gym, and some that can act as a full home gym on their own. Like every purchase, choosing the machine that is right for you is important to help you achieve your personal fitness goals. We selected what we think are the best cable machines on the market in hopes that this list can help you decide which could be the best option to suit your training needs.
Best Cable Machines
Best Cable Machine Overall
Calling our top pick a cable machine is like saying Ronnie Coleman was a pretty good bodybuilder. This machine transcends labels, but it does contain a well-appointed cable machine, as well as a host of extras. Meet the Force USA G12.
Force USA G12
For people who want an all-in-one machine that can provide pretty much everything you need for a complete workout, this is the answer. The cable machine portion of this all-in-one machine is pin-loaded, which can save on set-up time with each of the two weighing 200 pounds. A one-to-one pulley ratio allows you to move the exact resistance on the stack — making the most of the machine.
If that's not enough, the G12 also features an integrated Smith machine, half rack with safety spotter arms, landmine attachment, pull-up bar, weight plate storage, vertical leg press, and more with 14 attachments in total. You can also add optional upgrade kits for jammer arms, leg curls, and leg extensions. We can't think of a weighted exercise you can't do with this machine. All of this versatility does come at a cost though in both the size and price. The G12 measures 78.5 inches wide, 45.5 inches deep, and 88 inches tall, and costs a hefty $4,999 before tax, add-ons, and optional professional assembly.
Who Should Buy the Force USA G12
Customers who want a machine that can accommodate nearly any type of lifting they throw at it, from powerlifting and bodybuilding to general fitness.
Anyone who isn't as restricted by budget. This is a buy once, cry once scenario where you're purchasing something for a high price, but it should last you a lifetime.
Counterintuitively, someone who is limited on space. Though this product is fairly large as far as cable machines go, it has a ridiculous amount of functionality for the amount of space it takes up (if you have the room to fit it in the first place).
Who Shouldn't Buy the Force USA G12
People who are on a tight budget. When all is said and done, the base price of this product is about $4,999 before any additional costs or fees.
Those who don't have the ceiling height to accommodate this tall of a rack. Even if you can barely fit the rack, you likely can't do pull-ups on it with a low ceiling.
Anyone who is looking for a simple cable machine or functional trainer may find this to be overkill and way more than they need.
If you want a complete home gym wrapped around a rather solid cable machine, then the Force USA G12 should be at the top of your list for consideration. The versatility is unmatched and the cable machine itself is top-notch. So long as you've got the money and the ceiling height, you can't go wrong here.
Best Cable Machine (Runner Up)
A machine as versatile as it gets, the FT-3000 can act as the centerpiece in your home gym, or complement any existing equipment you may have.
REP Fitness FT-3000
The REP Fitness FT-3000 offers 15 possible cable positions, and the dual 180-pound weight stacks offer enough weight for even expert level weight lifters. If you are new to lifting and cable machines, in particular, the FT-3000 includes a placard that is positioned in the middle of the machine displaying 12 movements you can perform. The dimensions of this product are 78" x 53" x 34", which may seem large, but it can replace the need for a weight rack and potentially other forms of equipment. One of the only downsides to this machine is that there aren't many attachments to go along with the two strap handles. You will need to explore your options on what attachments you would like to add on and purchase them separately.
Who Should Buy REP Fitness FT-3000
Perhaps the most attractive feature of this product is its small footprint. If you are tight on space, this could be a great option for you.
Anyone looking for both heavy weight, and multiple angles from their cable machine. This product features 15 different possible angles and dual, 180-pound weight stacks.
Folks who are looking for commercial-grade quality with a friendly warranty. The FT-3000 is built from 11-gauge steel and features a lifetime warranty on the frame.
Who Shouldn't Buy REP Fitness FT-3000
This product is not compatible with a barbell, meaning you are not able to squat or bench press unless you get creative.
While 180 pounds on either side of this machine might be plenty for recreational lifters, elite powerlifters may want to consider a cable machine that features heavier weight stacks.
The versatility of this machine makes it one of the best cable machines on the market, earning our runner-up spot. The FT-3000 features a hefty amount of weight on the dual stacks, the 11-gauge steel means it's built to last, and the footprint is space-friendly. However, if you are a powerlifter or bodybuilder, you may want to look elsewhere as this product may not offer enough resistance for your needs without modification.
Best Cable Machine for Small Spaces
For those who are limited on space, it can be a real pain to find the right equipment for your home gym. Luckily this well-designed machine only has a footprint of about six feet by three and a half feet, which makes it a great pick even for apartment dwellers.
NordicTrack Fusion CST Studio
Every day there are people making big gains in small spaces, and now you can be one of those people too with the NordicTrack Fusion CST Studio. It stands upright with a user-centric design that allows you to work out between the two support legs, so you need even less room than many other machines. The modest footprint takes up only 60.5 inches in width and 41.5 in depth with a height of 73.5 inches, making this machine optimal for those with limited real estate to work with.
With an optional (though highly recommended) iFit membership for about $39 per month (after your first free month), this machine has the ability to take you through numerous types of trainer-led virtual classes. You can perform strength workouts with up to 100 pounds of cable-pulley resistance that your trainer can automatically adjust for you. You can also improve your cardio, increase flexibility, or practice yoga all with top-tier trainers from iFit using the included 10-inch tablet. This machine will put you out about $2,499, which is a tad high but potentially worth it for the functionality it provides within its compact design.
Who Should Buy the NordicTrack Fusion CST Studio
Athletes who want a machine that will allow them to work out any part of the body they want. The multiple cable attachment points allow you to work your entire body in various ways.
Those who want to keep their workouts varied will enjoy that they can perform myriad workouts with iFit directly through the machine.
Anyone who is limited on space, yet wants an all-in-one total smart home gym and cable machine will enjoy the compact design here.
Who Shouldn't Buy the NordicTrack Fusion CST Studio
Anyone who wants to perform lifts over 100 pounds — that is the max resistance of this machine.
Customers who just want a simple cable machine without any of the frills or thrills this smart home gym provides.
If you are on a tight budget, you may want to look at other options. Sure, the tech on this machine is great, but if you don't need it, there are cheaper alternatives out there.
Like an ogre, this cable machine has layers. Not only can you perform regular cable exercises, but with an iFit membership, you can partake in trainer-led virtual workouts with a variety of focus points, like cardio, flexibility, meditation, and more.
Best Attachable Cable Machine
If an attachable cable machine is what you're looking for, then Rogue has you covered. Instead of needing a separate cable machine taking up extra space in your home gym, this product attaches right to your Rogue Monster power rack, and comes in three different forms of resistance. It is worth noting that this is an exclusive product for Rogue and will only attach to your Monster power racks.
Rogue Monster Lite Slinger
Versatility is the name of the game for home gyms, and the Monster Lite Slinger has you covered if you're looking to add on to your Rogue Monster power rack. This machine is powered by cable pulleys or banded resistance — the choice is yours. When making your purchase, simply choose between banded resistance, plate loaded, or weight stacks. The Lite Slinger also allows you to perform lat pulldowns in your home gym without taking up too much space, which is a rarity for home equipment. However, if you do not currently own a Rogue Monster power rack, you will need to source another option as this is an exclusive product.
Who Should Buy Rogue Monster Lite Slinger
Anyone who has a Rogue Monster power rack that is looking to incorporate lat pulldowns into their regimen.
Customers who are looking for a product that is compatible with weight plates.
Anyone who is tight on space but wants to add a cable machine. This one attaches to your Rogue Monster power rack, and will save you space, so your gym can continue to grow.
Who Shouldn't Buy Rogue Monster Lite Slinger
Anyone who doesn't have a Rogue Monster power rack — this product is exclusive to the brand.
If you don't lift super heavy, you may run into an issue of the weight plates swinging and hitting the side of your power rack.
The Lite Slinger is a viable option for those who already own a Rogue Monster power rack and are looking to incorporate lat pulldowns and other cable exercises into their workouts. Thanks to its ability to attach directly to the rack, it can save you space. However, the cables may get in your way when they're not in use.
Best Rack with Cable Machine
Speaking of versatility, if you haven't heard of the G12 from Force USA, you may want to take some notes.
Force USA G12
This all-in-one trainer features everything you need to get a proper workout at home. The G12 comes equipped with a smith machine, multi-grip pull-up bar, a pair of J-hooks, spotter arms, a land mine station, dip attachment, leg press attachment, training bar, lat pulldown bar, a pair of nylon stirrup handles, rope attachment, knee stabilizer, low row foot plate, and suspension trainer attachment. That's not all though, as it also features storage for your barbell and attachments, Olympic lock collars and spring clips, weight plate horns, extension chains, and another set of spring snap clips.
That is a ton of extras for a machine that has a footprint comparable to a power rack — 89" x 79" x 49". While this is an expensive piece of equipment, you may not ever need to worry about purchasing anything else for your gym. This is also a hefty machine — the power rack can support up to 992 pounds, and the smith machine can handle 772 pounds and is compatible with Olympic plates. Plus, the dual weight stacks both feature 200 pounds of resistance.
Who Should Buy Force USA G12
Anyone looking for a machine that can truly do it all when it comes to handling your workouts. This product offers 12 separate attachments.
Customers who are tight on space and can't accommodate more than one machine. The G12 has a footprint similar to a power rack, but acts like a full home gym.
Athletes who lift heavy, this machine can withstand 992 pounds on the power rack and 772 pounds on the smith machine, and the weight stacks each feature 200 pounds.
Who Shouldn't Buy Force USA G12
Anyone who is on a tight budget may want to look elsewhere, this is an expensive piece of equipment.
Those who live in an apartment will not want something of this size. You would be better off with a machine that has a much smaller footprint.
With any home gym equipment, you want something that will offer great functionality. It's hard to beat the Force USA G12 in that regard. With 14 attachments and enough weight to accommodate even elite powerlifters, you may not ever need to purchase another piece of equipment for your gym — as long as you can afford the high price tag.
Best Home Gym Cable Machine
Based on an extremely popular standalone cable machine, this smart home gym adds a tech element and a more modern, sleeker design for an elevated-looking piece of home gym equipment.
NordicTrack Fusion CST Studio
If it's versatility that you crave, then we've got your fix here with the NordicTrack Fusion CST Studio. If you pony up for the relatively hefty price tag of about $2,499 and add an iFit membership for around $39 per month, you'll be able to perform nearly any type of workout you'd like at home. Options range from strength workouts utilizing the 100 pounds of available silent magnetic resistance (SMR™) through the precision cable system, to cardio circuits, meditation, and more.
While you can perform the same variety of exercises on nearly any cable machine on this list as you can with the Fusion CST Studio, this pick takes the cake because of the integrated technology and variety of extra classes available through an iFit membership. The trainers can track performance in real-time to automatically adjust the resistance through your Fusion CST Studio — ensuring a challenging workout each time you load up a class.
Who Should Buy the NordicTrack Fusion CST Studio
Athletes looking for a cable machine that can work as a whole home gym solution will find it here. Work on all aspects of fitness with an iFit membership.
Anyone new to strength training will enjoy the full-length mirror on the front of this machine to ensure your form is correct.
Those who want an all-in-one solution for your home that can accommodate cardio, lifting, and more.
Who Shouldn't Buy the NordicTrack Fusion CST Studio
Anyone who can lift more than 100 pounds will want to look elsewhere — that is the max weight for this machine.
People who want their cable machine to feature weight stacks — the resistance from this machine is all digital in the form of electromagnetic resistance.
Those who are on a budget can find more cost-effective alternatives if they don't need the tech that's featured prominently in this machine.
Featuring a small footprint that fits just as well in a garage as it does in a guest bedroom or apartment, the Fusion CST Studio is a solid choice for a home cable machine. If you're not looking to buy a ton of different machines, this one can help you accomplish most fitness goals with the use of its versatile platform and iFit membership.
Best Cable Machine for Bodybuilders
For those bodybuilders and powerlifters out there struggling to find a machine that can meet their heavy lifting needs, the Force USA G20 has your back. This machine has enough weight resistance to keep up with your regimen, and plenty of attachments to boot.
Force USA G20
Loaded with 29 attachments, the G20 really packs a punch. Each side of this machine is equipped with a pull-up bar, meaning two people can actually get a workout in at once if you were to super set. With this beast of a cable machine that acts as a full home gym, you can squat and perform vertical leg presses — plus, it even has a smith machine attached. To beef this machine up more, you can also opt in for a lat row station upgrade.
The only other things not included with this cable machine are your weighted plates and barbell, but Force USA has options for you to purchase if you do not already have them. The smith machine has a weight capacity of 774 pounds with 14 different racking positions, and each weight stack is 289 pounds — meaning you have plenty of weight resistance at your disposal. If smith machines aren't your thing, the G20 also comes with a front rack for a more traditional feel for any barbell work you may want to incorporate..
Who Should Buy Force USA G20
Heavy lifters who struggle to find machines that accommodate their needs — this cable machine acts as a full home gym, and is bound to have enough resistance for virtually everyone.
Anyone tight on space will enjoy knowing the dimensions are only 91" x 75" x 67", meaning this can fit in most home gyms, unless you are building a gym in an apartment.
Customers looking for a machine that includes all of the necessary attachments upon purchase, the G20 comes with 29 individual attachments.
Who Shouldn't Buy Force USA G20
Anyone on a budget may want to look elsewhere — this product costs $5,999 before adding any weight plates.
Recreational lifters who may not need everything that is included with this product.
When it comes to the G20, it's not about what you can do, it's about what you can't do — which is going to be a very short list. This cable machine acts as a power rack that can offer you the ability to perform full-body workouts, or just focus on individual muscle cable movements. If you can afford to spend over $6,000 for this product, this 11-gauge steel frame should last you a lifetime.
The Benefits of Cable Machines
Cable machines can be extremely beneficial to your workout plan. Not only do they offer more variety than other machines — thanks to the multiple angles you are able to work within — but they also offer a safer alternative than holding heavy weight over your head. Here are a couple of the major benefits cable machines can offer.
Safe Lifting
Safety is key in every workout and cable machines might be the safest form of lifting you can find. Since you don't need to put heavy weights over your head, you can always drop whatever attachment you are using without the fear of being crushed underneath it. This also allows you to train to failure.
For the machines on this list that act as a power rack, they even come equipped with spotter arms that you can customize to fit your needs. That way, if you are squatting and feel yourself not able to lift the weight, you can rest assured that the barbell isn't going to come slamming into the floor.
Customizable Workouts
As we mentioned, versatility is key with any piece of equipment. With cable machines, you are truly free to lift as you please. You can easily tailor your workouts to fit your needs, and perform essentially any move in your regimen. From bicep curls to an array of back workouts, you may be able to work your muscles in ways that free weights, barbells, and other machines may not allow you to.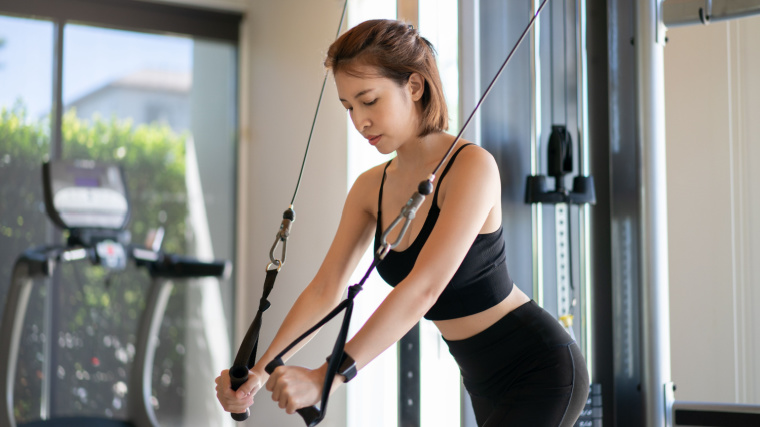 Cables allow you to hit your muscles at different angles and even allow you to work on your lower body in ways you wouldn't be able to elsewhere. For example, if you have an ankle strap then you are able to do lateral raises, kickbacks, and alternating step-ups. You have the luxury of doing bicep curls, front raises, lateral raises, triceps extensions, and, for the machines that feature smith machines and front racks, you can even squat or bench press.
How We Chose the Best Cable Machines
No matter if you are an avid gymgoer or a beginner who is wanting to fully immerse yourself in the fitness scene, a cable machine can be extremely beneficial to your progress. We decided that the following qualities were the most important, and at the forefront of our minds while creating this list.
Stability
Like any gym product, you are going to want something that is sturdy. All of the picks on this list check that box and offer the support you need to feel safe while lifting. Not only did we curate this list with high-quality products that could potentially last you for more than 15 years, but these products also feature enough weight to where they shouldn't topple over in use.
Everyone is built differently and weight requirements will vary, but we feel that your safety is equally important no matter if you are an expert or novice. You can be confident that any product you choose from on this list will be a good choice in that regard.
Versatility
The beauty of these machines is that they can support multiple movements, which is a game-changer for home gyms. Even if you aren't an expert in weight lifting, the ability to work multiple muscles in various fashions can help tremendously. With a cable machine, you are able to perform shoulder workouts, chest flyes, back workouts, and even hit multiple leg workouts such as glute kickbacks and lateral raises. In fact, most of these machines can stand alone and act as the only equipment you need for your home gym.
While not every product on this list has the necessary attachments included with their purchase, you will at least have the option to add those to expand your workouts even further and create a very versatile piece of equipment.
Price
While none of these products are necessarily cheap, any home gym equipment is an investment that should eventually pay for itself. Cable machines are no different, and they can help you level up in terms of your gains. You can find a cable machine for as little as $300 to $400, but these might not last you very long, and you'll be stuck looking for a new one after a few years. The quality of these products drives the price up, but we've ensured that all of the picks on this list are well worth their price tags.
How Much Do Cable Machines Cost?
The price of cable machines varies from product to product, much like any other piece of gym equipment. The main variables that go into these price variances are the way the weight is loaded, the versatility of the machine — meaning the breadth of attachments it can accept, as well as other components of the machine (such as a rack or storage) — and the build quality.
| | | |
| --- | --- | --- |
| Best Cable Machine Overall | Force USA G12 | $4,999 before attachments, delivery, assembly, or accessories |
| Best Cable Machine (Runner-Up) | REP Fitness FT-3000 | $2,149 before additional attachments |
| Best Cable Machine for Small Spaces | NordicTrack Fusion CST Studio | $2,499 before iFit membership or accessories |
| Best Attachment Cable Machine | Rogue Monster Lite Slinger | $360 before attachments or add-ons |
| Best Rack with Cable Machine | Force USA G12 | $4,999 before attachments, delivery, assembly, or accessories |
| Best Home Gym Cable Machine | NordicTrack Fusion CST Studio | $2,499 before iFit membership or accessories |
| Best Cable Machine for Bodybuilders | Force USA G20 | $5,999 before add-ons or upgrade kits |
It's easy to see from this chart that cable machines and their prices can vary widely — though they're a rather large investment on the whole. Even a relatively cost-effective rack-attached cable assembly will set you back several hundred dollars. That's why we did such diligent research when compiling this list — to ensure you have all the information you might need to properly select the right cable machine for you and your goals from a list of high-quality, well-built options.
What to Consider Before Buying a Cable Machine
Before you go and spend your hard-earned money on a machine, it's best you do your research, map out your available space and have a plan. You don't want to add a machine that is going to dominate all of your space, and if you decide to purchase a cable machine that doesn't function properly, you will be doing yourself a disservice. If you're looking for a little advice before making such a big purchase, we've shared our thoughts below.
Size
While the size of these machines varies, and in turn will dictate where you can place them, and what exercises you can perform in your home gym, you need to be sure you can accommodate for the dimensions. While some wall-mounted machines can fit virtually anywhere, others are quite large and will dominate most of your available space. We suggest mapping things out and having a solid plan before deciding which product to purchase.
Functionality
Nobody wants a machine that is limited in capabilities. When choosing a cable machine, it's best to make sure that you will be able to really get a solid workout in, and that it is made of high-quality materials. That means targeting products that are made of high-grade steel (such as 11-gauge, which you will find in many professional gyms).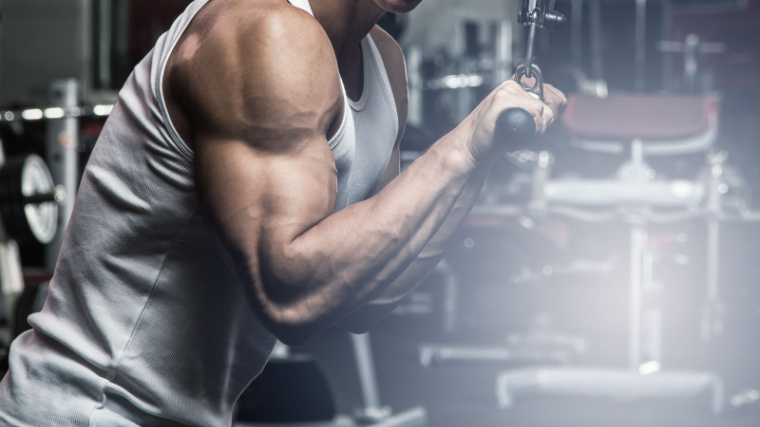 Your cable machine should also offer a certain level of versatility, such as having multiple angles, so you can work more than just your upper body. The products on this list are all, in our eyes, soundly made and offer the functionality needed to help you reach that next level on your fitness journey.
Price
Before making any purchase, you always need to weigh your options and see what you can afford in your budget. While some of these products come equipped with many attachments at your disposal, there are also a handful that require you to purchase necessary attachments separately. This can turn your purchase into a very expensive one if you are not careful. It is always best to set a budget for your machine and weigh what is included with your cable machine purchase before deciding which product to buy.
Final Word
Buying a cable machine can completely transform your home gym. These machines provide the ability to work your muscles differently than free weights and barbells, thanks to the constant tension created by the cables themselves. You can either choose a cable machine that will simply supplement what you already have in a power rack, or you can opt for a standalone product that can act as a full home gym.
Once you decide which type of cable machine you want to support your workout regimen, this list can help you find an option that will best suit your needs. Whether you want one that is interactive and comes with a ton of classes featuring personal trainers, or one that features a smith machine and front rack, we have a pick for you. Set your price point, measure your space, and let us do the rest of the heavy lifting for you.
FAQs